Request categories can now be set up to accept requests without locations. "Location-less" requests may be useful for Freedom of Information Act Requests (FOIA), public records requests, employee kudos, and more.
Important Note
This feature is only available for organizations that have the latest product package from SeeClickFix. If you do not see this feature option in your request configuration settings and would like to upgrade, please contact your Client success manager.
Turning Location-less Requests On
When creating a new request category or editing an existing request category, you can toggle location-less requests by turning on or off "Require location upon submission."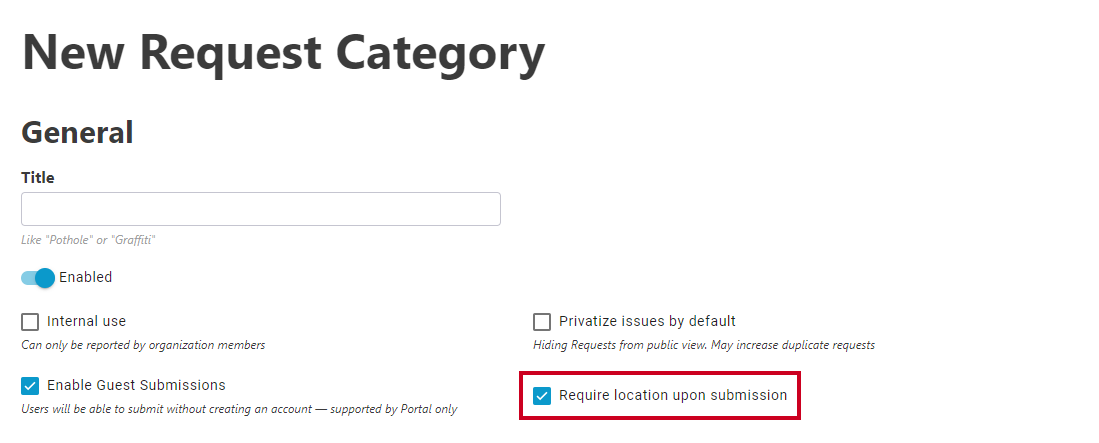 Using Location-less Requests with the CRM's Call-Taker Interface
When using the call-taker interface, at the top of the screen the call taker can toggle on or off whether the request being received has a location. When this is toggled to "No," only request categories that allow location-less requests will be available for selection. The map will then be grayed out so a location cannot be selected.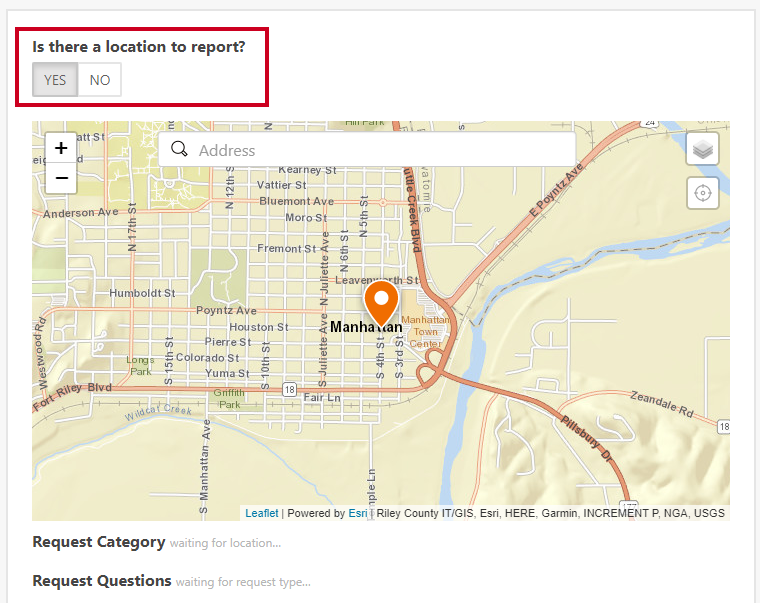 Using Location-less Requests with the Web Portal
To allow location-less requesting via the web portal, ensure that the web portal either directs users to a category list or directly to a specific request category.

Users on the web portal will be taken to a searchable list of all request categories. If they select a category that allows location-less reporting, they will not be prompted to pick an address.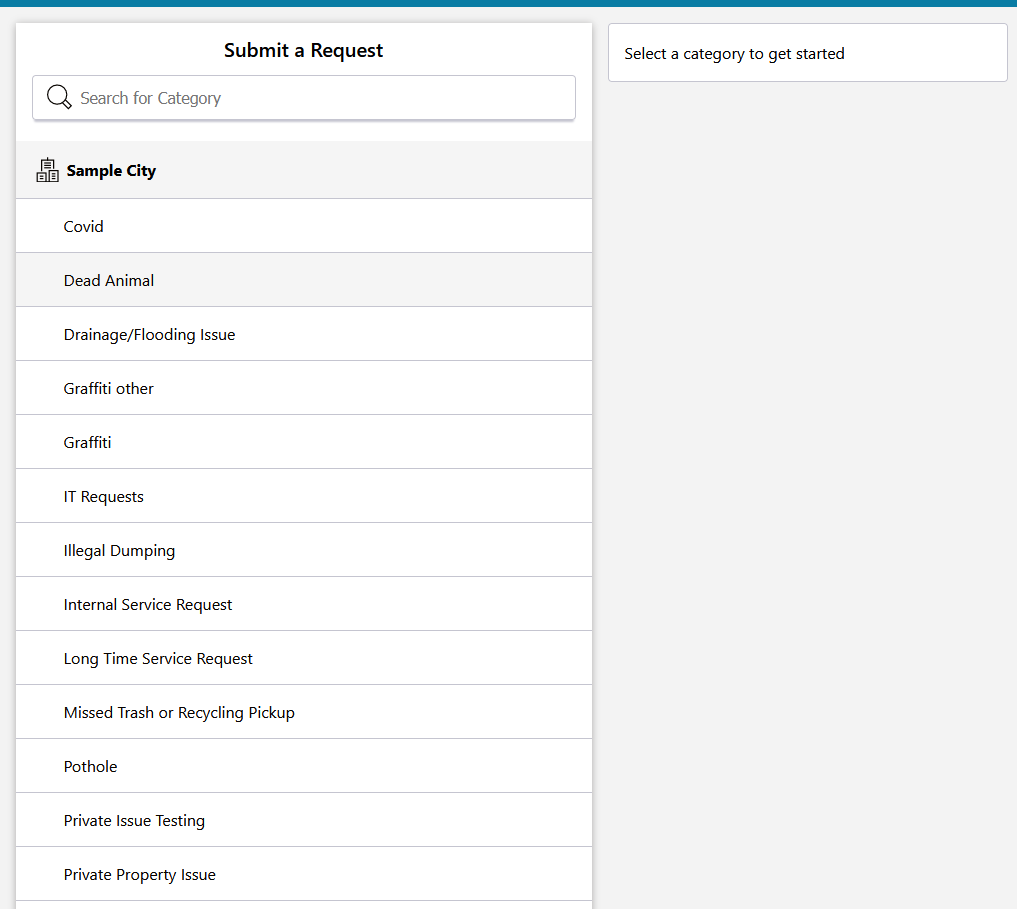 You also may use the web portal to link directly to a location-less request category. In this case, those using the web portal will not be asked to add an address.

If you embed the portal starting on the map, then a location will be selected first and then the categories list will appear. This means the categories will still have locations on them.
Using Location-less Requests on the Mobile App
The mobile apps start with the user choosing a location, which then populates the categories for that area. For categories that have the location-less option turned on, the category will still show in the list and the user will submit an address with the request.
If the organization requires a workaround for this process, you can create a link specifically to the location-less request category, and create a mobile button using this link. Here's an example: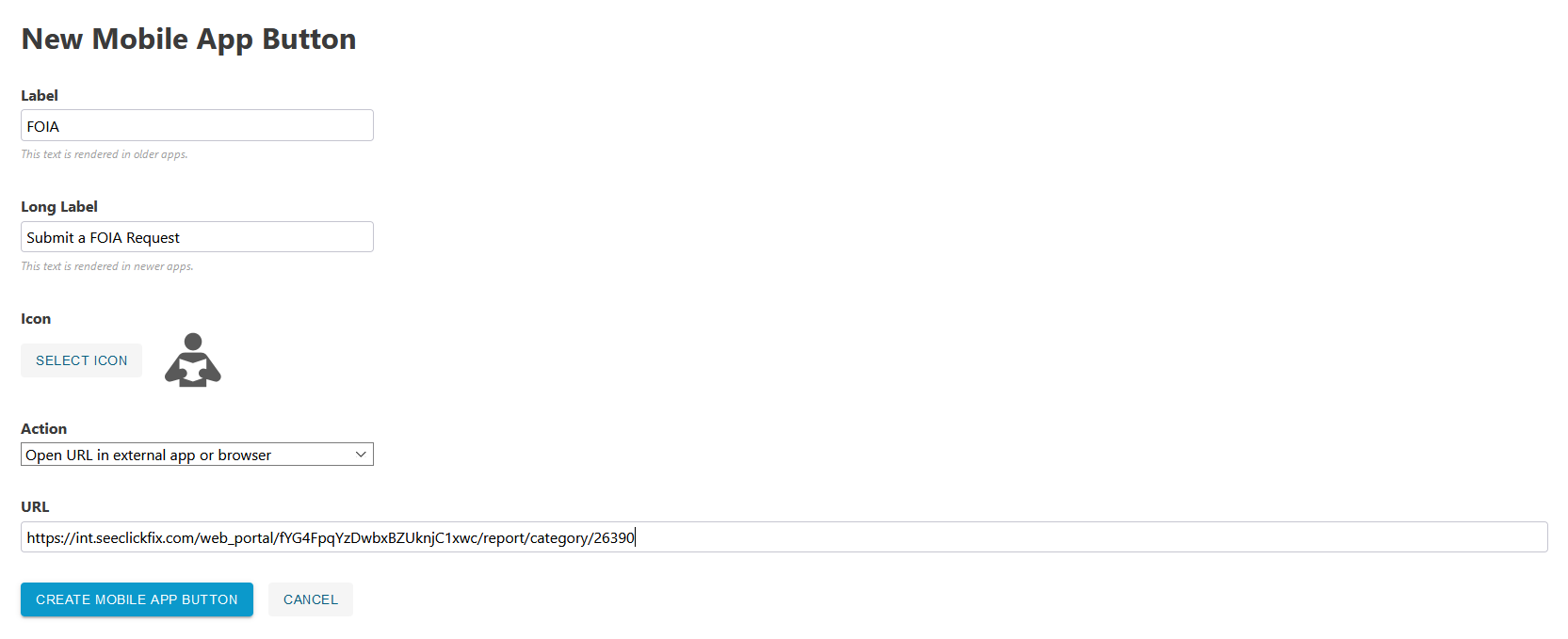 When users are on a SeeClickFix app, they can use this mobile button to visit the web portal and submit a location-less request.
Integrated Request Categories
Currently, location-less requests are not available for integrated request categories. Each integration has separate requirements and will need to be worked on individually. Please discuss options with your Client Success Manager.