Who can use this feature?

Overview
Owner users are able to add and remove members from an organization.
You will already see your account information listed in this section. Unless your account includes unlimited members, there is a limited number of user licenses including a set number of Owner's licenses. You can always purchase additional licenses for your account if you would like to add additional members. Contact your Customer Success Manager for pricing.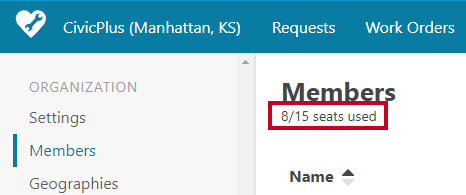 Instructions
Navigate to Profile > Manage Organization


Select the Members tab

Click New Member


Complete the following information



Avatar: Upload a photo for the member's profile

Note: We recommend a square image for an avatar. In addition, please note that we convert the avatar to 150x150 pixels. We recommend uploading this specific size.

Email: Add the user's email address

Note: If the email doesn't have a SeeClickFix account, we will send them an email to create one.

Display Name: This is the name that will appear publicly to residents. This can be changed by the user at any time.
Handle: This is an internal name that can be used to "tag" other users in an internal comment. This allows for users to easily ask a question or loop in another member of the team on a Request. Once created, the handle cannot be changed.
Default Language: Our system can be translated into multiple languages. However, this translation only applies content generated by our system. In other words, this will not translate any user-generated content.
Default Time Zone: Select the time zone for the member.
Organizational Role: Select a role from the list. For a more detailed description of members' roles, see our guide.

Owner
Manager
Internal Personnel (this role is only available for organizations with the Work package turned on)
Requester (this role is only available for organizations with the Work package turned on)

Category Restrictions: Choose if you wish to restrict member access by request category.

Click Add Member