Within each Request Category, Organization Owners can set users to be the automatic assignee. This setting allows for workflow automation and organizational transparency.
The automation is comprised of three components:
Events: There are three events that trigger automations:

Request Creation
Request Reopen
Request Recategorization

Criteria: When an event occurs, it must meet the specified criteria to run. There are two types:

Request Category
Account Geography

Action: What happens when an event occurs with the specified criteria. There is one action:
The combination of these three elements allows you to create geographic-based assignments for requests in SeeClickFix (now Citizen Relationship Management) that will at the time a request is created, recategorized, or reopened.
Automations run from top to bottom, meaning that the automation will override any other automation with the same event and criteria that are listed above it in the Automations settings page. For example, the following scenario will assign all requests to Ben B unless they are in the "New Haven East" geography, in which case they will be assigned to Leslie Knope.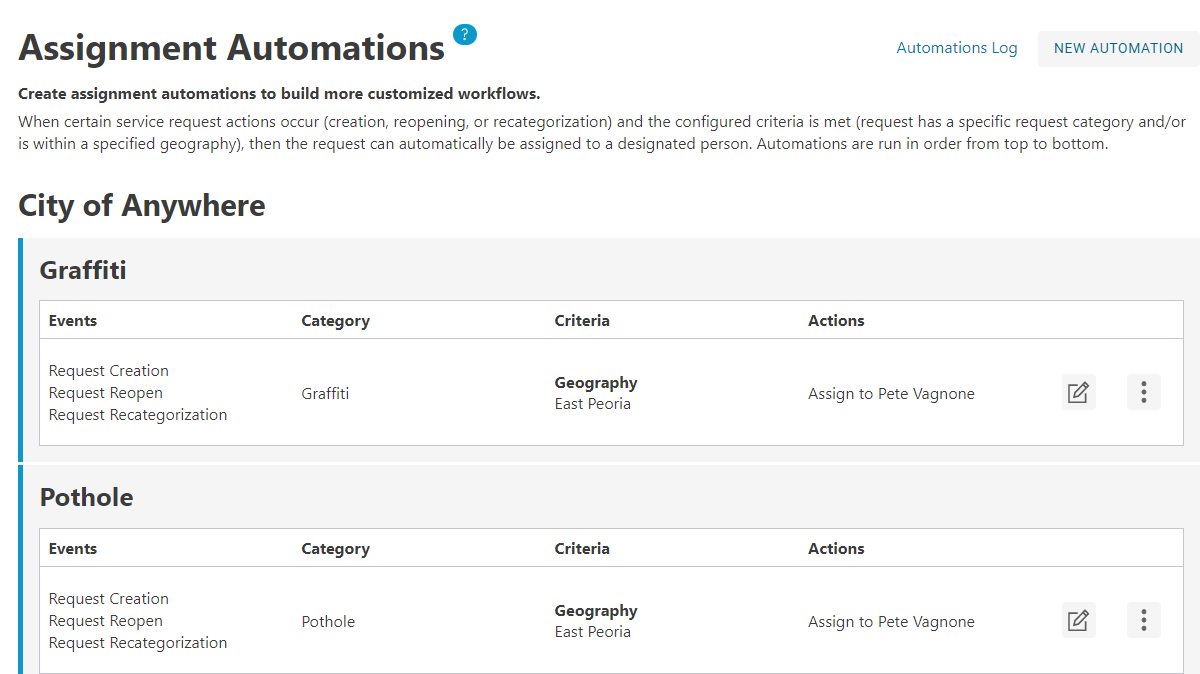 Automate Your Workflow
Without SeeClickFix (Citizen Relationship Management), you might have had an administrative assistant receive all resident requests, and they would route those requests to the appropriate department and staff member. However, with automatic assignments, you can configure this to occur automatically. Here's an example:
A resident reports a Pothole issue, using the SeeClickFix (Citizen Relationship Management) app.
The City's IT Manager has discussed with Public Works who should always be handling Pothole requests, and they have configured this within the Pothole Request Category. As such, the Pothole issue is automatically assigned to the appropriate staff member, and the resident sees immediate action on their issue.
Increase Organizational Transparency
When residents understand how their government works, they tend to trust their government more. To this end, we believe that automatic assignments give insight into how government works by immediately showing the resident who is reporting an issue, who has Assigned the issue, and to whom they have assigned it. For example, a Pothole request could be Assigned By the Public Works Director and Assigned To a Public Works Staff Member. This appears in a comment to the resident who reported the issue in a comment on their issue.